We have released the new iOS and Android apps that now support all our products including the new iSocket 3G. The new apps are available in more languages and support new iPhones and Android Tablets. Please install these new apps if you own a previous iSocket product too. We will not be supporting previous apps. Here is a brief review of our apps.
iSocket Smart Plug SMS Manager – a simple way to work with your iSocket
For our iSocket Smart Plugs we promote a simple way of communication via text messages – a mode that is widely supported in all countries by all mobile operators and literally with any phone. This way of communication – as opposed to being cloud-based - ensures that you always work directly with the unit and you are not affected by cloud failure. This also allows you to save cost, because you don't need to pay for the service. We have designed commands with meaningful names - e.g. STATUS instead of HWO0127Il. However, in order to release you from the boring routine of remembering all commands, we offer you even better solution - our apps. (Sure, you can implement a cloud-based communication with iSocket. If you are a developer – join this project).
Choose your language
Apps are provided in 13 languages at the moment.  We must admit it is a challenge to support many languages in the apps. Should you find any mistakes or want to help to improve translation or want to help to add your own language – please contact us.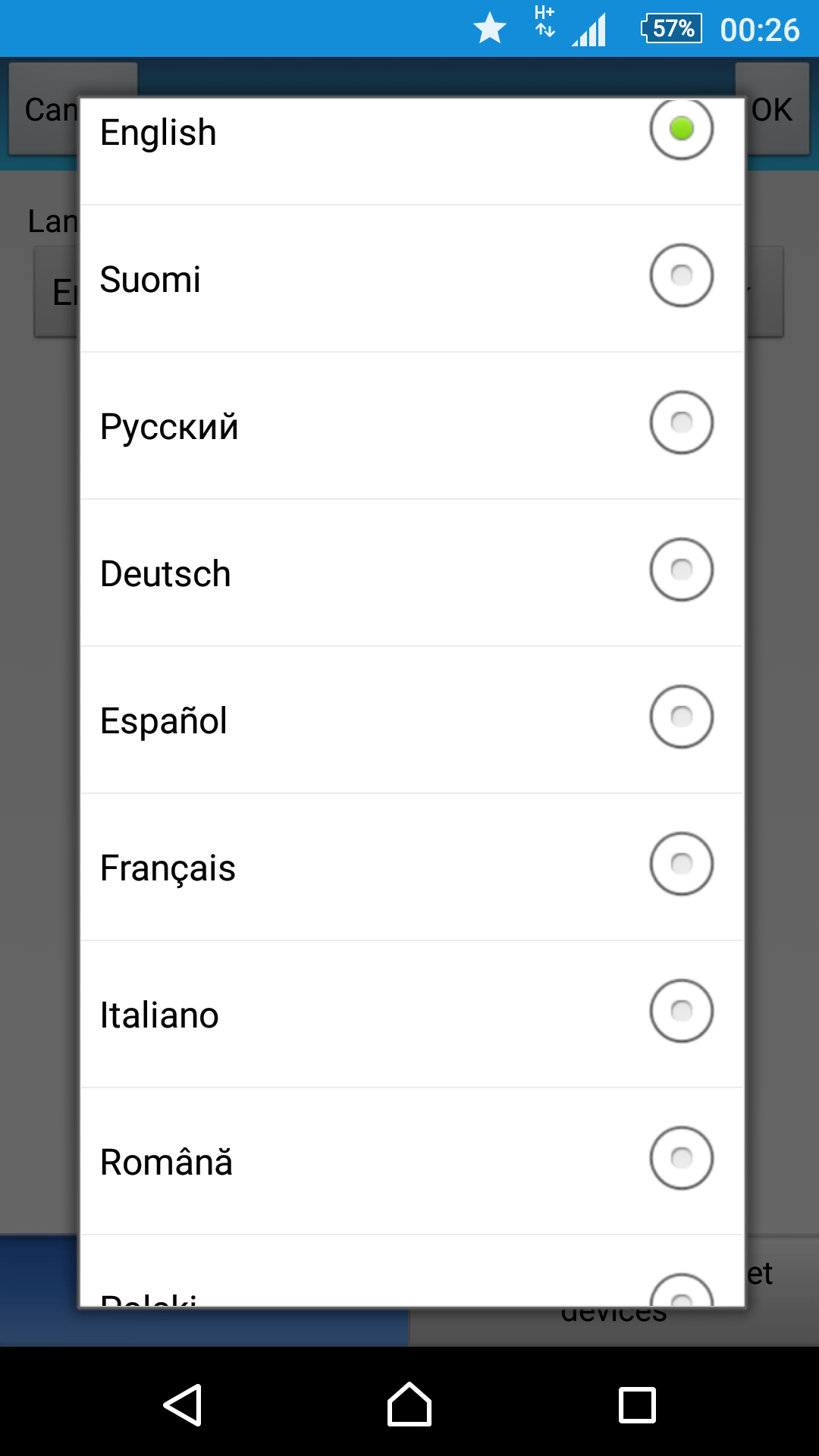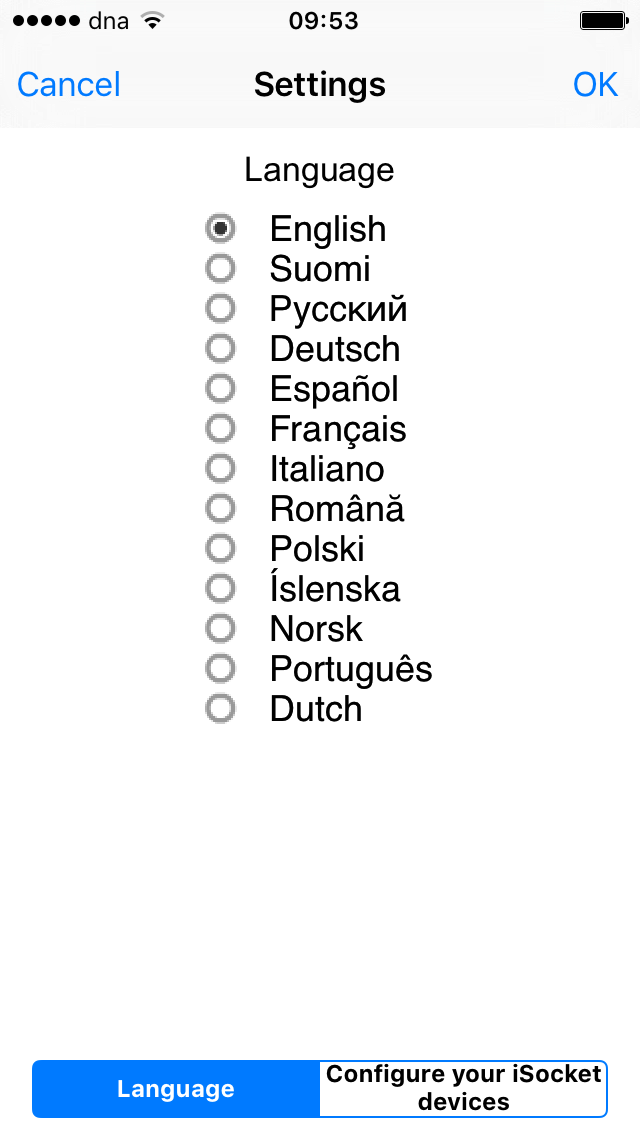 Configure your iSocket device
Give names to your iSocket units to identify them – for example, Boiler, or Garage, or Boat. Add the phone number of the SIM card that is installed in the iSocket. If you have configured a password on your iSocket device, add it here too. Finally, choose the model of your iSocket. As you can see on screenshots, all the latest models are supported. You can add several iSocket units. It's simple!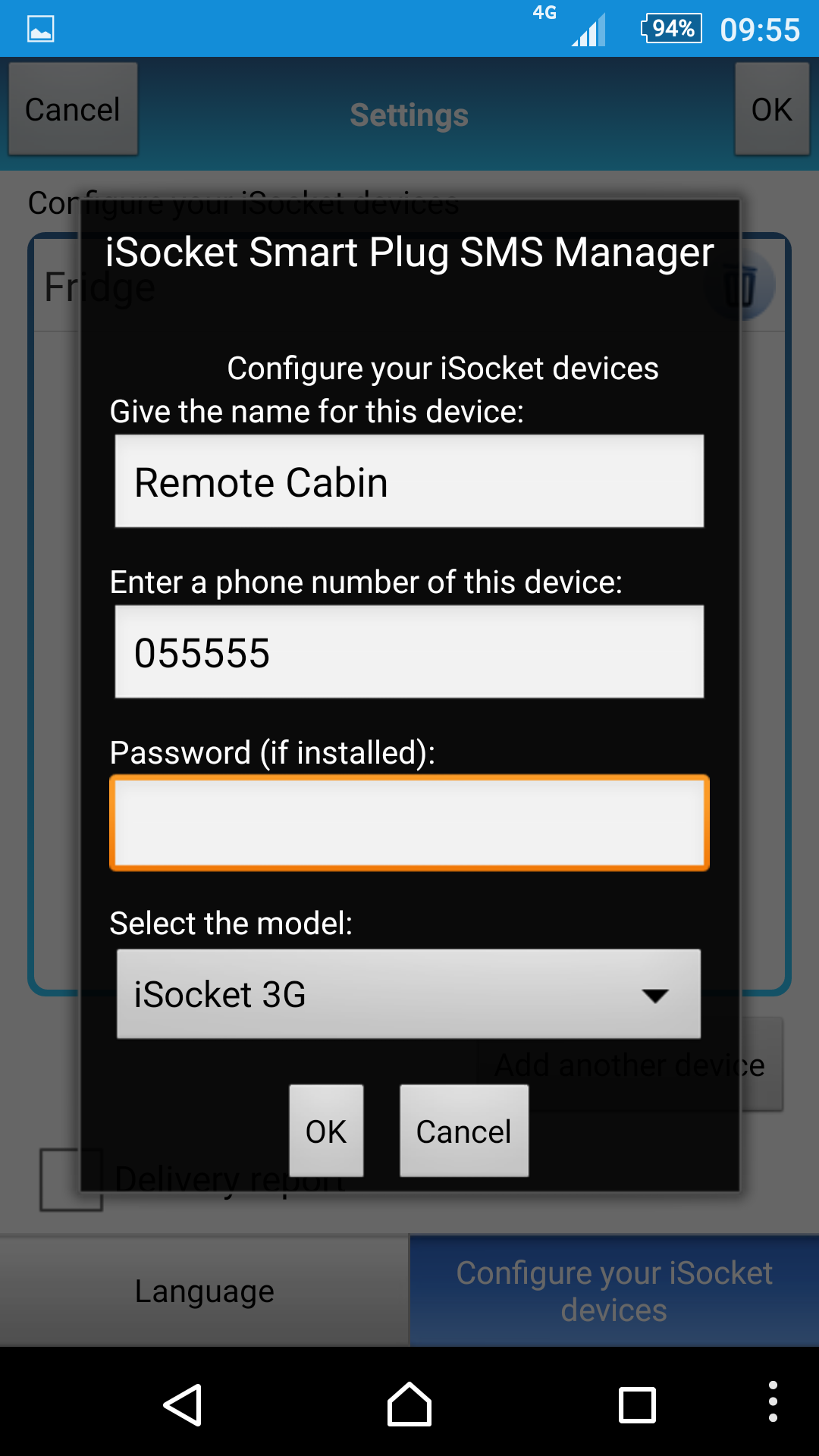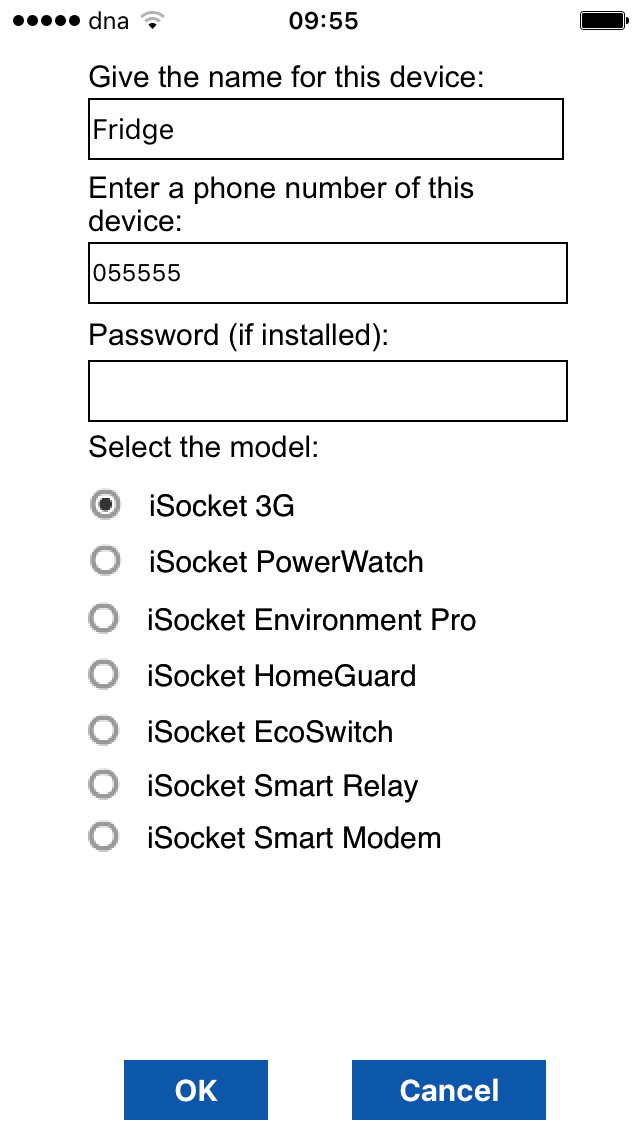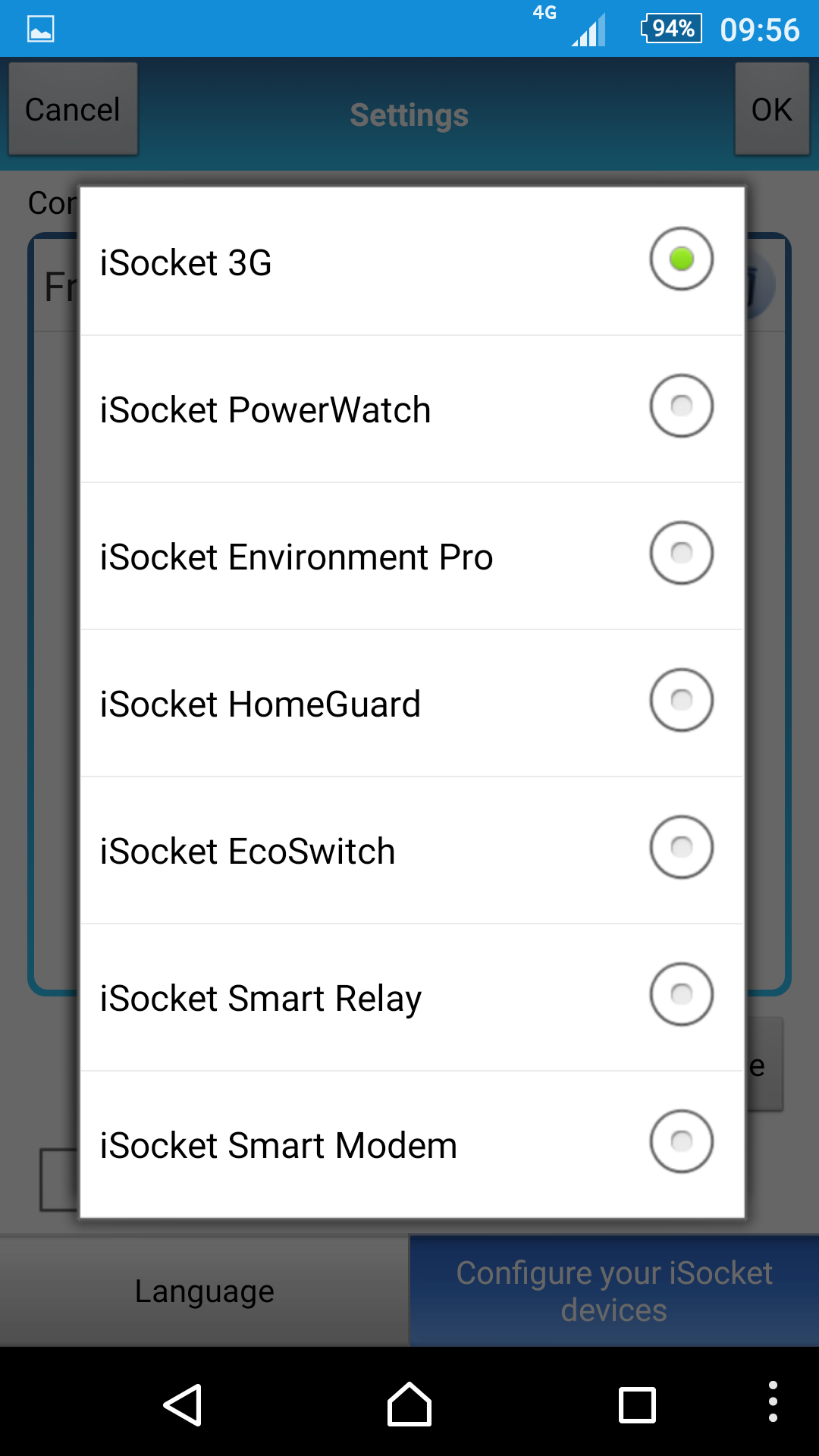 Dashboard
Here you can manage and configure your iSocket. It is divided into 3 sections – Ctrl, Inf and Conf. Please see Chapter 4 of the user manual about the difference between control (Ctrl), configuration (Conf) and information (Inf) commands.
Here is an example of the Ctrl tab for iSocket 3G.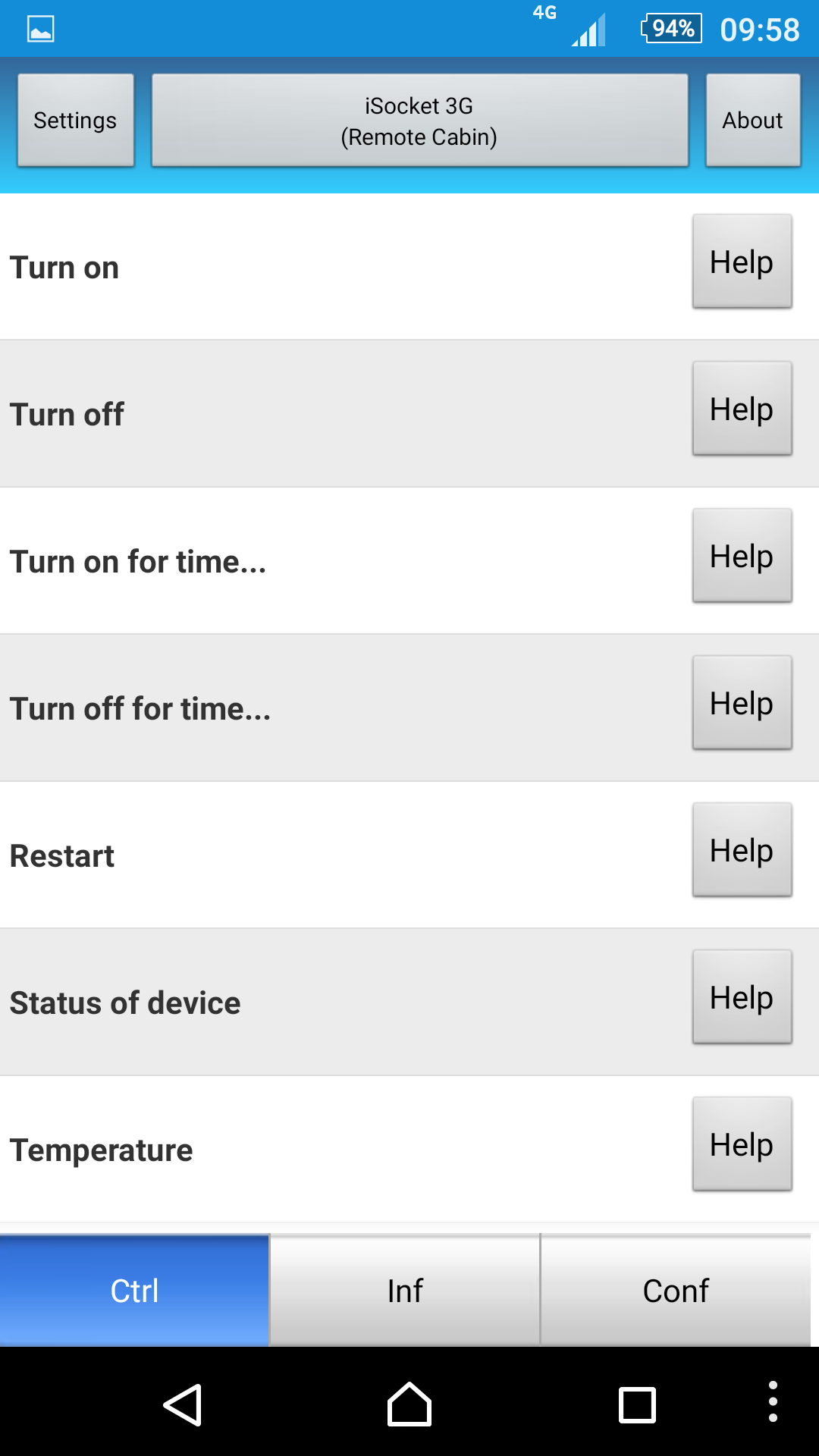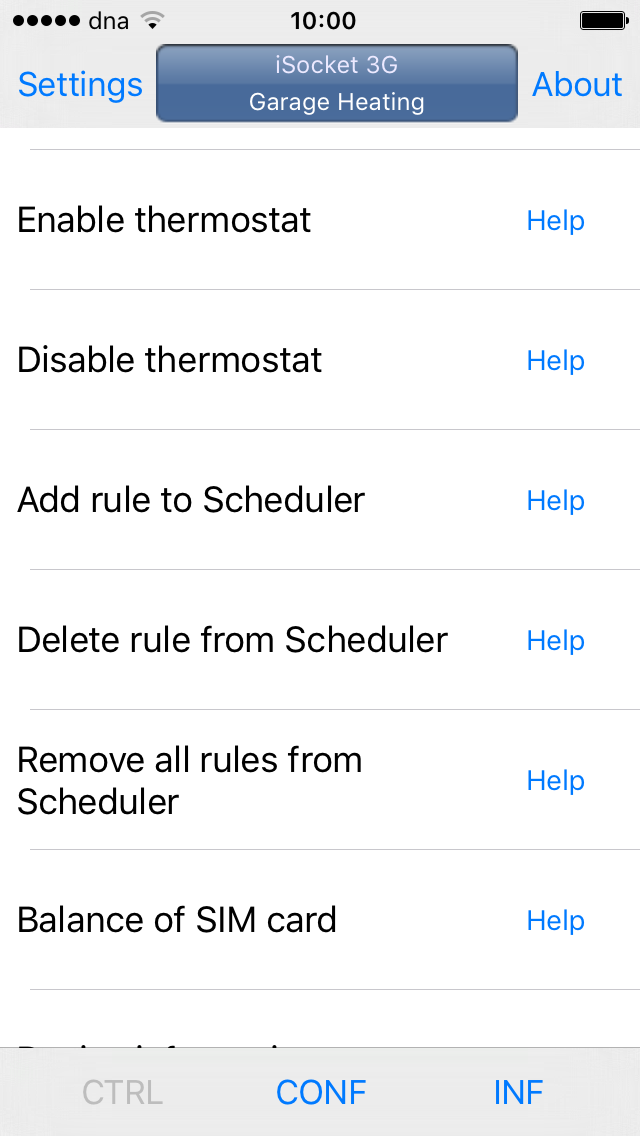 Should you forget any settings, go to Inf tab and you will see the list of commands that you can text to iSocket to request these settings.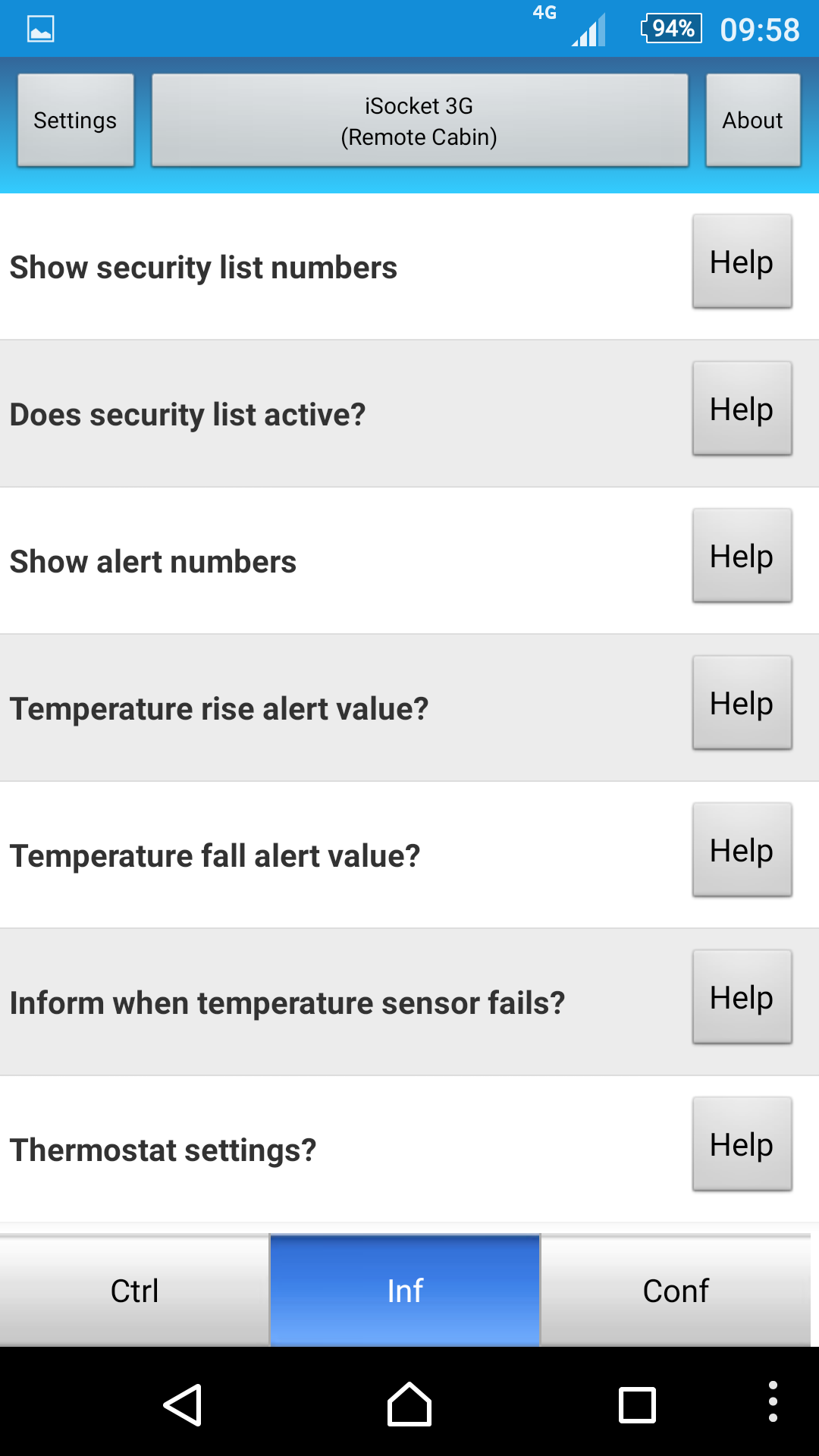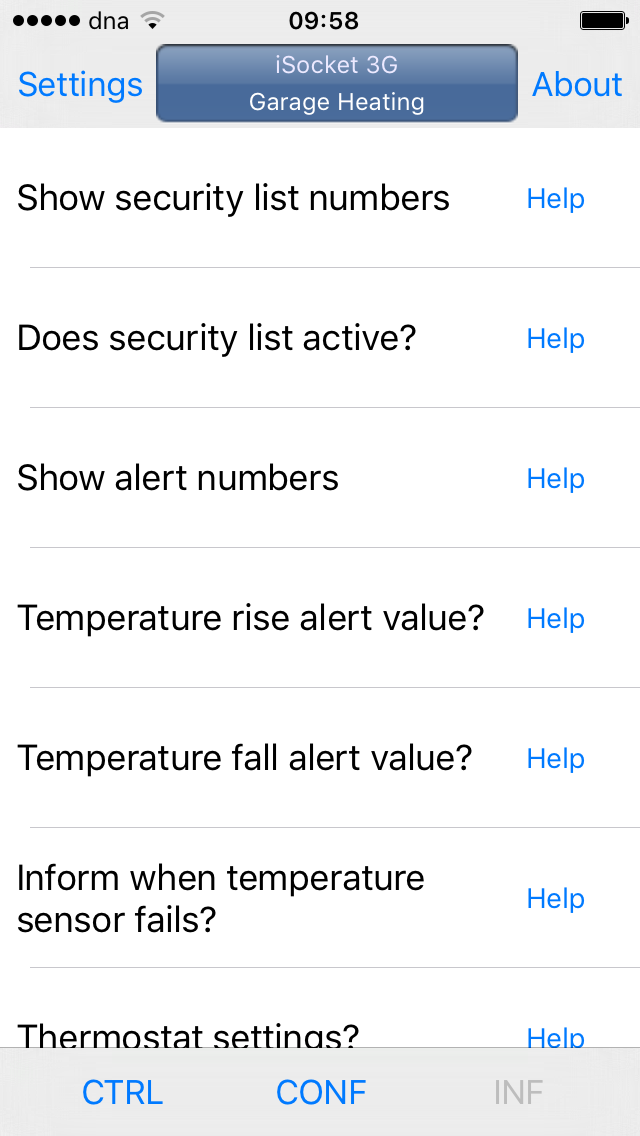 Conf tab – this is where you send commands from to configure your iSocket. Make sure to configure security first of all. The best way to do this is to execute the command MAKEMEBOSS.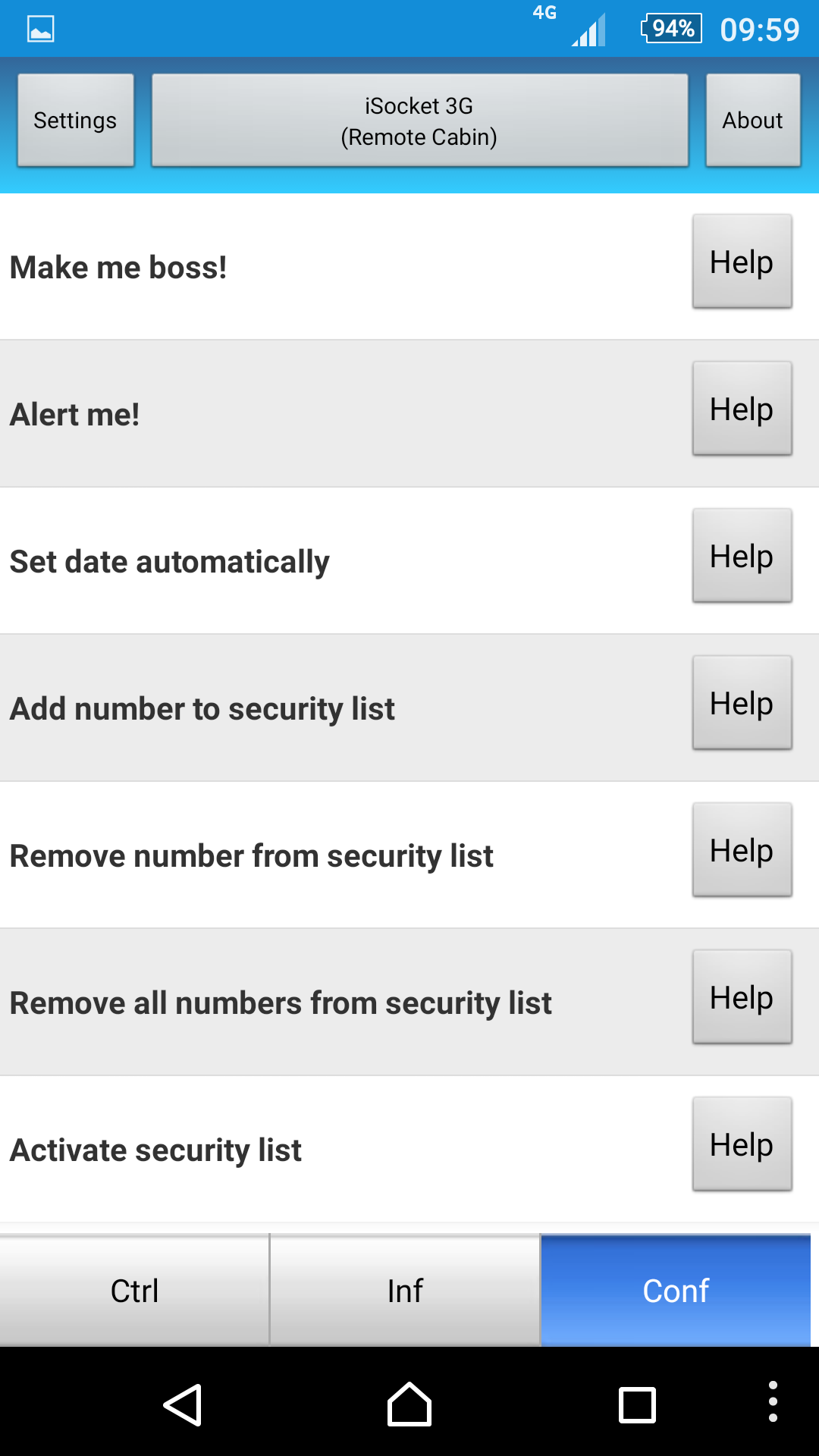 Help
Should you forget or be confused about what a specific command means, you can click on help to see more information.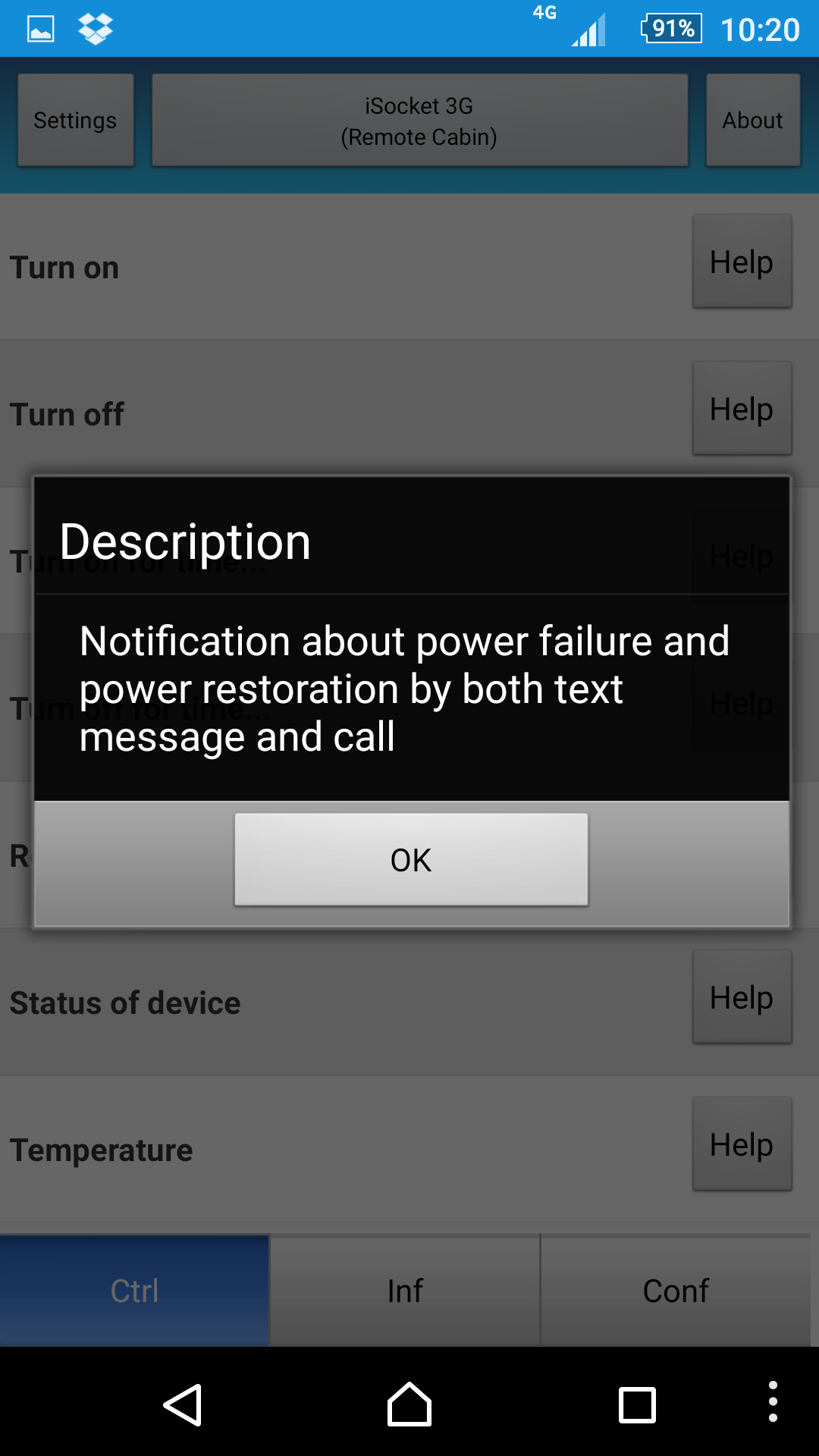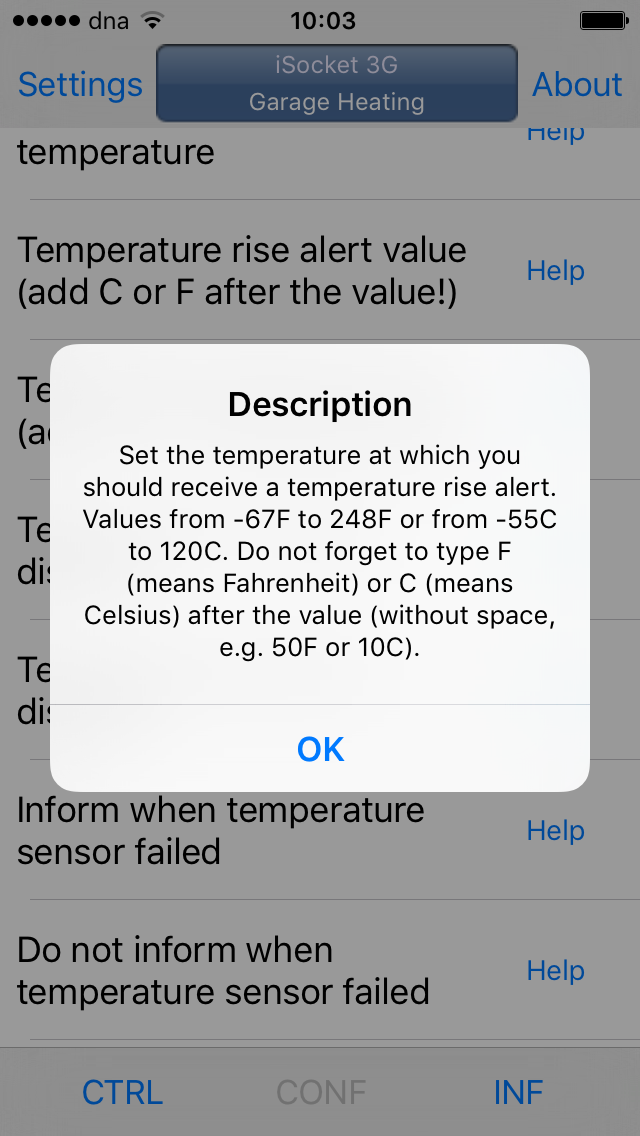 Switch between different iSocket units
Just click the middle button at the top of the screen and you can choose the iSocket you want to work with. That's it!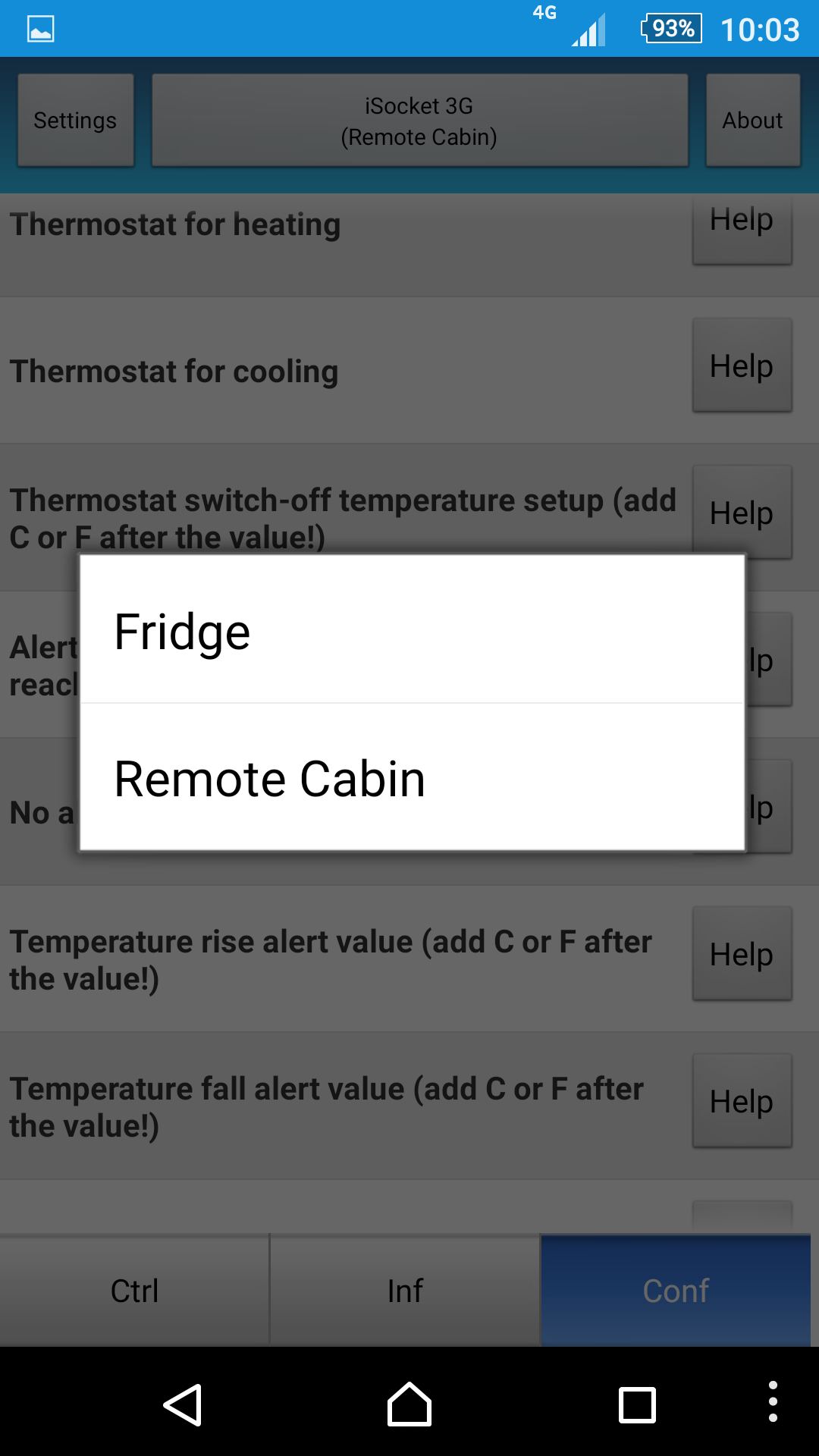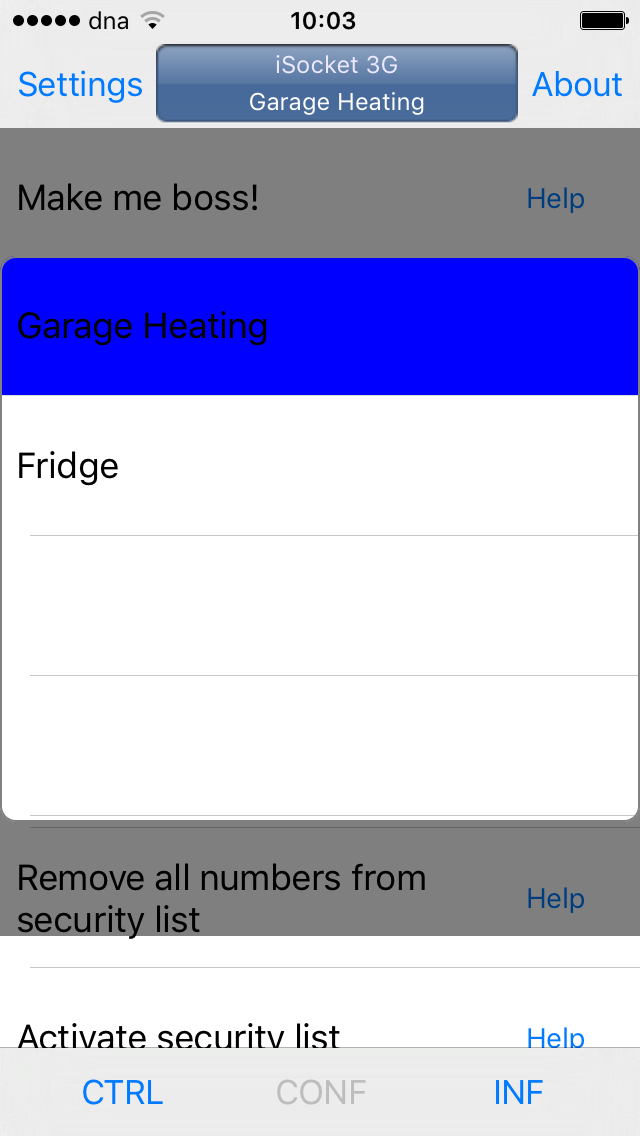 We hope you enjoy our simple apps. Btw, sort apps on your iOS or Android device by size and see how "much" memory we borrowed from your phone. You can go directly to the end of list if you sorted by descending.  ;)